TST ~ Total Solution Technology
 Comprehensive strength of manufacturing
We Sanmei Electronics develop, design and manufacture the advanced electrical and electronic technology with a theme of "Motion & Mechatronics". Our motion control and drive technology that we made the Japan's first transistor servo have a high reputation of high technology and performance. In the field of marine fishing equipment, our share is the domestic top class. Armed with the high accuracy of precision machinery using nano-technology, the comprehensive force is our strength with which we can complete the whole manufacturing process from upstream to downstream internally from hardware design, software design, production to cabinet processing.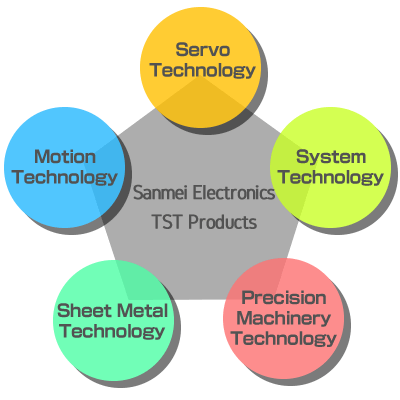 Comprehensive strength of the group
 The fusion of group three companies energy changes the mechatronics world!
We Sanmei Electronics are the engineering specialists specialized as a development department of Sanmei group.
Sanmei Co., Ltd. is the core company which propose our products as a trading company to a wide range of industries, companies and Universities and so on. They are proposing the customers' optimal systems by asking the customers' needs in detail, and explain in what way the products can be useful, not just by simply give the catalog information. Recently, we get many inquiries about the projects in the field of nanotechnology, so we are proud that our products are supporting secretly the "Japan's technical capabilities".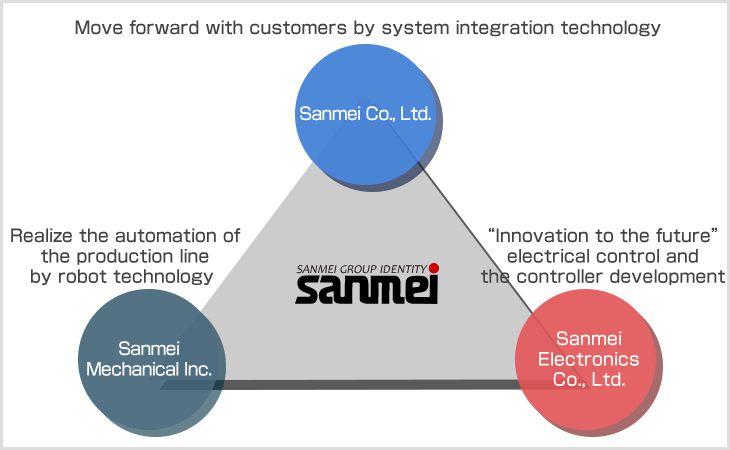 Human resources force and development capabilities
 Human resource development enables the better manufacturing.
"Human resources" are essential for the flexible and innovative product development! We have carried out human resources development outstandingly well.
We have all kinds of know-hows related to manufacturing because we have skillful human resources and we have done the production from development and design in-house consistency. The joining of the force of employees becomes a new product development capabilities, and it has been a virtuous cycle that leads to a further motivation of employees.
 Facilities force
Introduction of the latest equipment enables us to produce a higher quality products more efficiently. We established a system that does not emit defective products, we have rolled out a highly reliable products.
We put our force not only on the equipment, but also "5S (Sorting, Setting-in-Order, Shining, Standardizing and Sustaining the Discipline.) activities" to achieve a clean and safe working environment.

 Related Contents